The "Outpost Opry Variety Show" is a family fun filled night of entertainment for all ages. Your Host Joey Garland along with the "MAJOR DOGS" house band includes Hall of Fame musicians. The "Outpost Opry Variety Show" is somewhat like the famous Grand Ole Opry with a little taste of a Branson MO style show and a pinch of Hee Haw. You will find the cousin of Mayberry's famous rock thrower Ernest T. Bass, comedian William H. Bass making you laugh. You will find something for everyone. It's not just Country Music it's, Gospel and sometimes Southern Rock. The Outpost Opry is a show like non other in Georgia, always family friendly and the highest quality of entertainment. The "Outpost Opry Variety Show " recently performed in Branson Missouri at the Branson Star Theater for "Opry Mania"2014 and was a crowd favorite. Opry Mania was week-long event that consisted of many hand-picked Opry shows by the Producers. We would lve for you to bring the "Outpost Opry Variety Show" to your town. Comments or questions? We want to hear from you! Call – 770-942-4363
Thanks to all that came out to the July 19th show at Hawkinsville. We had a great turnout and show. Met and made many new great friends. Stay tuned as we announce our new great Outpost Opry Show.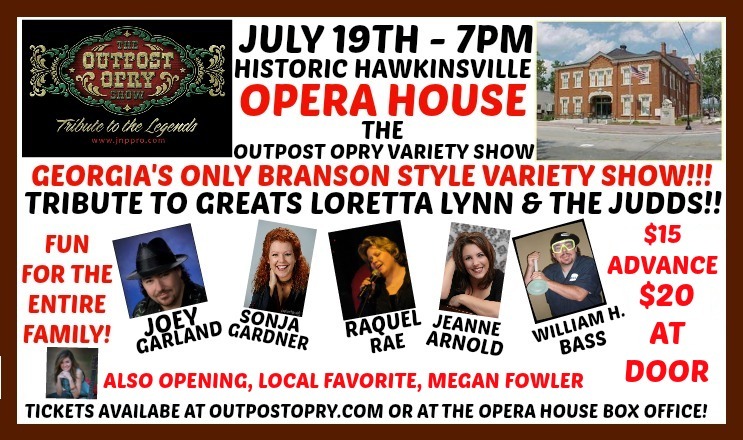 Stay tuned – new shows to be announced soon!
( If you would like The Outpost Opry to come near you, shoot us an email!   joey@jnppro.com )