The "Outpost Opry Variety Show" is a family fun filled night of entertainment for all ages. Your Host Joey Garland along with the "MAJOR DOGS" house band includes Hall of Fame musicians. The "Outpost Opry Variety Show" is Georgia's only Branson style show somewhat like the famous Grand Ole Opry with a pinch of Hee Haw on top. You will find the cousin of Mayberry's famous rock thrower Ernest T. Bass, comedian William H. Bass making you laugh. You will find something for everyone. It's not just Country Music it's, Gospel, Oldies, show tunes and sometimes Southern Rock. The Outpost Opry Variety show is a show like no other in Georgia, always family friendly and the highest quality of entertainment. The Producer and your host award winning songwriter Joey Garland has hand-picked the cast to ensure the highest quality of entertainment. The cast consist of Award winning vocalist Raquel Rae, Nashville Recording Artist Sonja Gardner, nationally claimed vocalist Jeanne Arnold and Fiddling Jess Ford and last but not least, the great Michael Twitty, Conway's son with his "Memories of Conway" segment.
 Newly added to the cast is two reality TV stars.  Joey Thurmond from "Funny Business" and Dan Whitehurst. The duo formed "Tellin Tales" comedy tour entitled "You can't make that stuff up. The added comedy to the show will for sure have you rolling in your seat. Don't miss this one of a kind Georgia Show.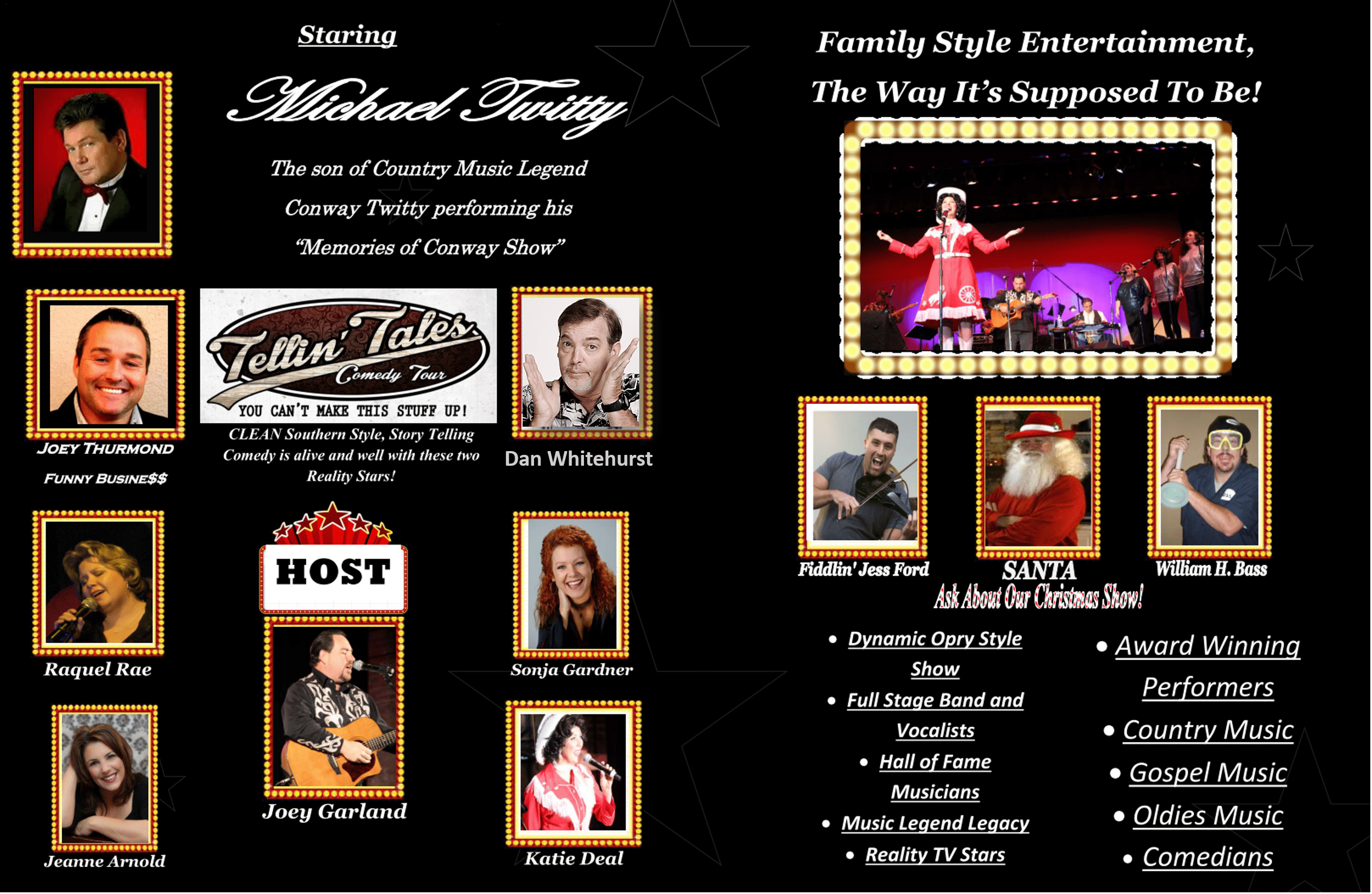 Travel clubs and bus tours are welcome at our dinners shows. If you are a travel club or civic group and would like to organize a trip to one of our dinner shows please contact us.
The Outpost Opry Variety Show will be returning to Branson MO in 2018. It's now regarded as one of the TOP shows there. The Outpost Opry Variety Show is a family fun show that is perfect for any event. We are especially ideal for Diner shows and have always been a barrel of fun. If you would like for us to produce a diner show event for you.  If you would like The Outpost Opry to come near you, shoot us an email!
joey@jnppro.com
Or call 770-942-4363